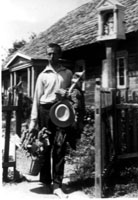 The photo portrait of and by Balys Buračas in 1934. Photo No1 from LTRFt.
The Lithuanian Folklore Archives at the Institute of Lithuanian Literature and Folklore is the biggest depository of folklore in Lithuania. The valuable folklore, ethnology and ethnomusicology materials have been accumulated here. At the moment, it stores over 1.5 million items: folksong texts and melodies, tales, legends and other folk narratives, short forms of folklore, charms, folk beliefs, ethnographic descriptions, folk medicine, etc. The Archives has inherited rich collections from the Lithuanian Science Society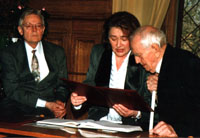 The prominent folklore collector Jurgis Dovydaitis consigns his personal archives, accumulated in the course of 75 years, to the Lithuanian Folklore Archives. Starting from the left: Academy professor Leonardas Sauka, the lawyer, and J. Dovydaitis. 1998. Photo from LTRFt.
(72 000 of various items) and from the Lithuanian Folklore Archives, which functioned in 1935–1939 and had accumulated over half a million of folklore recordings. The Lithuanian Folklore Archives has also significant collections of sound and photo materials. The earliest sound recordings available on shellac discs were made in 1908, on audio discs in 1935, and on magnetic tape in 1958. In 1934, B. Buračas submitted the first photographs for the photo collection. The unique materials comprise an excellent basis for the scientific folklore research.